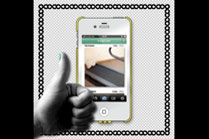 1. Loopcam
This June, people around the internet were celebrating the animated GIF's 25th birthday and the rudimentary file is as popular as ever thanks to the social media blogs and forums such as Tumblr, Reddit and 9gag.
However, creating GIFs wasn't easy for many basic internet users, especially for those who can't afford to fork out for Photoshop. Things are supposed to be getting easier but GIFs remained as a complicated task for non-savvy social networkers. Now, thanks to Loopcam, making GIFs is easy as you can create instant animations with your iPhone, and it has just gone social.
Thanks to being able to integrate in Facebook's Open Graph to boost visibility, Loopcam also have introduced the ability to follow friends and like their GIFs, leading people to call the app the "Instagram of GIFs."
The Berlin based startup was founded in 2011 by Tor Rauden Källstigen, Martin Löfqvist and Martin Ström as a way of creating quick and easy animated GIFs from your Apple device.
However, after discovering that the app was more popular than predicted, the company received an undisclosed amount of funding from several sources, including Soundcloud founders Alexander Ljung and Eric Wahlforss.
As with many apps, we can't see a profitable business model for Loopcam as they aren't selling anything or collecting data for advertisers - unlike fellow Berlin based startups Changers, Soundcloud and Amen. However, that didn't seem to stop Instagram making a lot of money.