As of January 2013, there are 775,000 apps in the Apple App Store, with 300,000 native for the iPad and, at the time of writing, the top grossing apps on the UK iPad App Store are:
Candy Crush
Clash of Clans
Hay Day
The Simpsons: Tapped Out
The Hobbit
There are two things that stand out from this list; they are all games and they are all free, which seems an odd way to make money. How do they do it?
Get downloads
As mentioned, there are a lot of apps on the Apple App Store. The reality is people can't afford to download every app available just to test them out. By setting the price tag to free, more people can test the app with no risk.
Possibly the best example of this working is Temple Run. The app was originally set to .99¢ and garnered 400,000 downloads before interest started to dwindle. The company then made the decision to make the app free with in-app purchases, and saw downloads rise to over 46 million.
In-app purchases
It is easy to see why the freemium model, also known as free-to-play, has become the monetization trick of choice. Let's do the maths.
Temple Run was originally 99¢ and received around 400,000 downloads. That's a reasonable return of $396,000 for quite a simple mobile game. However, when the app went free and got the 46million downloads, the company predicted that 1-3% spent money on an in-app purchases.
Two per cent of 46million spending a minimum of 99¢ brings a return of $910,800, which is a 130% increase in profits.
A recent report by app analytic company Distimo reveals that in February this year 71% of money made with apps for the iPhone was through in-app purchases from free apps.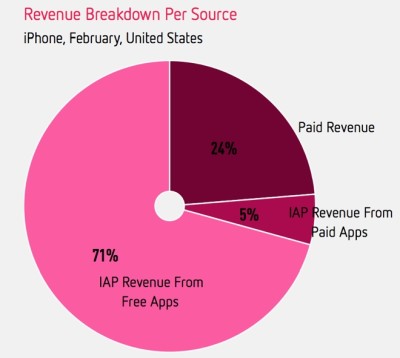 But it gets beter for all you app making moguls, as the report also reveals that some apps are making a lot more money per download than they would have if they went for the paid revenue model, with some apps reaching as high as $7.04 spend per download.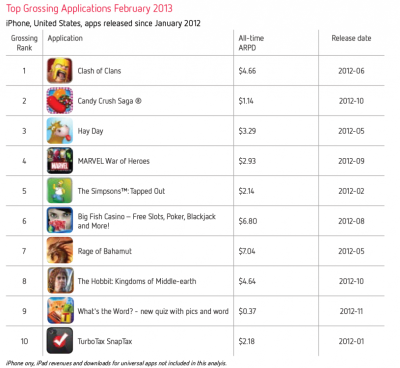 Free-to-play best practises
But how do you get your audience to spend? Well, there's a fine balance. If you limit the experience so much that they have to spend, chances are they will find something else to fill their time.
By giving users a good experience, allowing them to do enjoy the app without spending any money, a small percentage will spend a lot of money to get even more, and that small percentage can generate a large revenue.
Oh, and you might get the cheeky download here and there from a kid getting excited with their parent's iPad. Not recommended.