1. Tout
With the success of YouTube, Instagram and Twitter, combining all three sounds like a guaranteed success. However, even with Viddy's reported 26million plus users, it hasn't become the international sensation it could be.
Now there is a new #1 contender with Tout after a recent round of funding saw an interesting investor in the WWE, who aim to make them the world heavyweight champions of the social video world.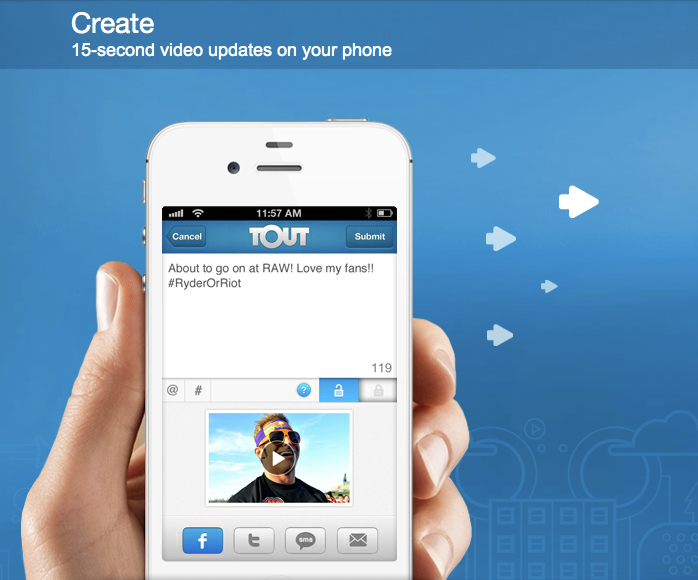 The world's most popular wrestling brand WWE are among the companies to have invested in the company's $13.3million Series B Venture Funding, making the total invested $15.4million.
With Tout, users are able record 15 second video status updates with either their smartphone or webcam and share instantly to Tout's website, Facebook, Twitter, SMS and email contacts. Nothing is sounding too revolutionary but they do have a good reply feature that encourages conversations in the same way Twitter does.
Based in the startup city of San Francisco, Tout's co-founder and CEO Michael Downing is packed with experience in the digital world having co-founded the world's first legal music subscription website Musicbank and GoFish.com, the second largest media network for young people after Nickelodean.
Tout is unique in that it has a built in set of influencers as WWE try and get all their wrestlers to consistently update as well as mentioning the site regularly on their TV show.
However, while companies like AirBnB, Amen and SocialCam have benefited from Ashton Kutcher's reach, Tout can soon boast to be the next celebrity hangout, with Sharon Osbourne, Shaquille O'Neal, Ryan Seacrest, Whoopi Goldberg and many more are 'Touting' regularly.