1.Maybe
This week is all about making better choices on the 'Startups of the week series.' For #24.1 we had FindTheBest, the site that allows users to get informative, unbiased and interactive graphs on what was the best of what you wanted. For 24.2, we are getting more social with Maybe.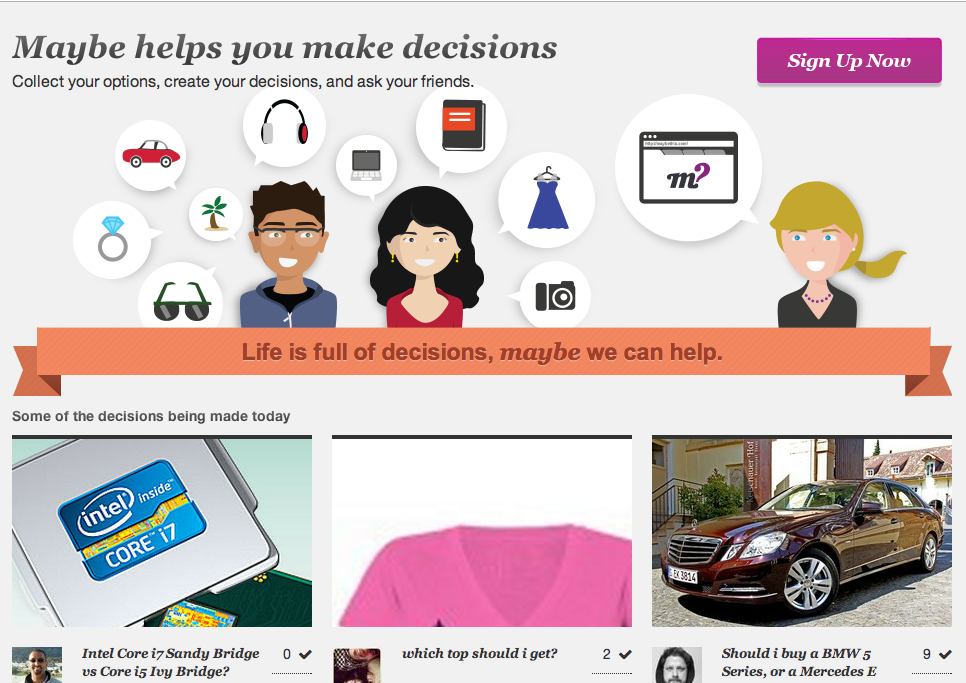 The idea is simple. If you have a few options on films you want to watch, what to buy, where to go on holiday and so on, you can upload the list of potential choices to the site, where friends and other Maybe users can vote for you. From here you can post the question to Facebook, Twitter and email it to friends.
Maybe also has an interesting story. Last month, AdMob founder Omar Hamoui announced he was leaving and shutting down his Churn Labs because he was lured away by one of their startups. While not commenting on the project at the time, it appears that Maybe might have been the startup in question.
While speaking to TechCrunch, Hamoui explained his interest in the site.
"The idea originated when my wife was shopping for a coffee table. She spent of bunch of time browsing the web, collecting her options in a gmail draft, and then sent me an email of blue links that I was supposed to click on one by one to form an opinion. By the time I got to the fourth one, I had forgotten what the first one looked like, what the prices of any of them were, and certainly had not checked reviews or anything else that would help me give her a more informed opinion. At the same time, my family was planning a vacation with a group of friends, and all of our decisions from hotels, to activities, to areas to visit, were all being made in roughly the same way."
With the site only having been launched, we can't seem to find any numbers or rumours if there will be some sort of backing any time soon. However, we do know that with Maybe you break away from the conventions of "which one do you like best" and "what I like" to "What do you think I should do." It is less about Facebook, Twitter and Pinterest's ego and more about crowd-sourcing opinion.
With some better SEO (Maybe is a hard site to find on Google), the startup could be the place you go to get your second opinion.... Maybe.