Kytephone
Children and phones strike a dilema. On one hand, you want your young one to be safe and contactable but on the other, you'd rather they didn't have a device that connected them to an outside world with potential risks. Kytephone realised this and started working on an Android app [GooglePlay] that makes their smartphone strictly child friendly - with the Beta version officially launched on Tuesday.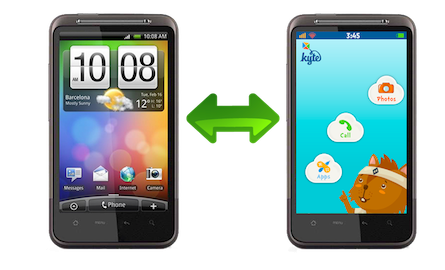 The app is the latest tool for Big Mother as the Beta version of Kytephone allows parents to decide who their kid can call and receive calls from, track the child's location, see photo's taken from the phone and give a summary on phone call activity.
A great feature on Kytephone is that, even after turning the phone off, removing the battery and other attempts to turn the app off, it will still be on. The only thing that can remove it is a password (don't use the same one as your LinkedIn password).
At the moment, Kytephone offer the service on a freemium model as basic features are currently free but added paid for services may be added in the future. One advantage of this is stop your child being bombarded with adverts.
As mentioned earlier, this app does seem to have an Orwellian feel to it but the pros certainly outweigh the cons. For starters, the design makes it apparent that this app is not for a late teen who may rebel against such restrictions and the tracking device may save your child.
Kytephone was a part of Y-Combinator this year, which is no mean feat in itself. Since then, there has been a lot of media love for the app as it is answering the problems of children and phones. The company are also working on an iPhone version but due to less freedom for developers on iOS platforms, it may be a better idea to buy your kid an Ice Cream Sandwich this christmas.