Travelling is one of the joys of life. Seeing places, meeting people and taking in a new culture rejuvenates us. We take out loans, save for months and work mediocre jobs just so we can jet-set off and see how people in other cities live. But do we? When abroad, it's easy to end up eating in restaurants filled with other travellers, seeing the sites packed with tourists and meeting people at the hotel who know your cousin Terry.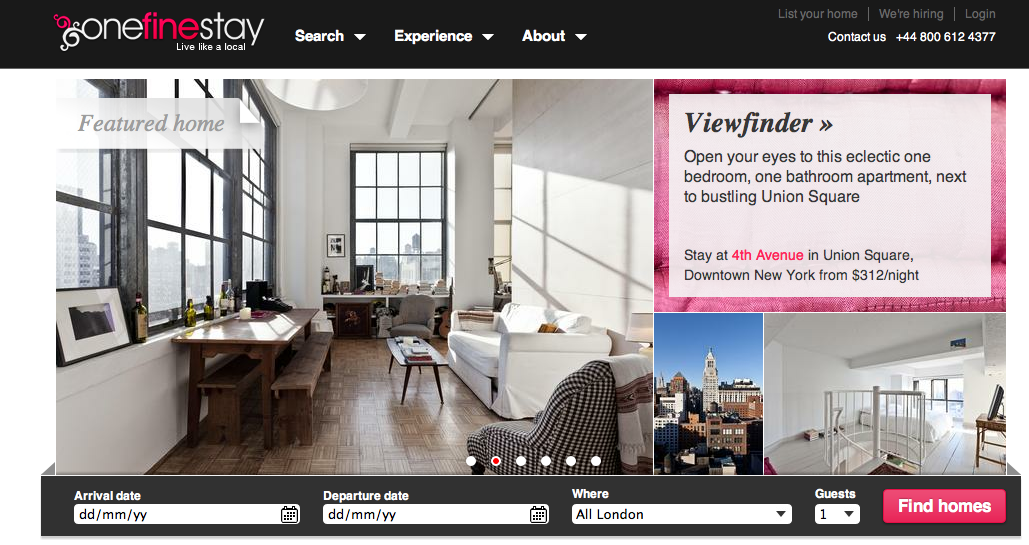 Not anymore. E-commerce travel site One Fine Stay is the world's first 'un-hotel', meaning users can stay several locations in London and New York like a local. So local, the houses/apartments available to stay in are residential properties.
However, the standards are high. This isn't a website aimed at students looking for a cheap way to stay in two of the world's major cities, but rather for professionals and couples looking for an alternative to a boutique hotel.
Based in London, One Fine Stay was launched in 2010 by Greg Marsh, Tim Davey and Demetrios Zoppos. Last year the company received $3.7million in Series A funding led by Index Ventures which also included ex-director of marketing for London 2012, David Magliano. The site also allows home owners to make money by letting out their properties to holiday-makers.
Again, the standards are high. On your arrival, everything will be tidied with fresh, high quality sheets and towels. Sometimes, you are also given an iPhone during your stay, filled with things to do in the area suggested by the owner. For as little as £66 a night, you can have your own boutique pad in the heart of London. Beats that small hotel room any day and in perfect time for the Olympics.