1. Hailo
Catching a taxi on a night out can take a ridiculous amount of time, often ruining the good vibe from an evening with friends. However, by using Hailo you could have the taxi ordered, paid for and be on your way home within minutes.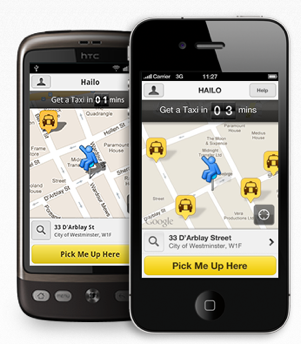 [Image from TechCrunch]
The first of our Silicon Milkroundabout special, the Android[Google Play] and iOS[iTunes] app lets you hail a taxi the 2.0 way. Rather than the hassle of catching a cab, often leading to desperate measures of jumping into an unlicensed car, Hailo can get you a taxi easily. They also added the feature to pay with your card, meaning you don't have to jump out mid-journey to use an ATM while the meter is running.
Hailo was founded by three taxi drivers and three serial Internet entrepreneurs, including Jay Bregman of eCourier, and has seen a total of $20million in investment, the latest being a $17million round of series A funding led by Accel Partners to try and crack the US market.
There are two sides to the app. The first side is the user app which allows members of the general public to order a taxi with ease using their smartphone, letting you know where the nearest taxi's are and how long it will be. Don't worry about the address of your current location as your phones built in GPS will let the driver know exactly where you are.
The second side is the Hailo Driver Network, designed to be a companion for taxi drivers, offering social features, private stats, sharing of traffic and demand events relevant to drivers.
Similar to Uber in the US, Hailo is leading the way in the UK on how smartphones can improve our (night)lives.