1. The trouble between Samsung and Apple
Apple is suing Samsung. Samsung is suing Apple. It just goes on and on. So much so, you could be forgiven for having no idea who supposedly stole which idea from who. What we need is a 97 second video to help us understand.
Created by OnlineMBA, this video gives a quick history on the legal battles between the two companies, as well as where Google fit in.
2. Unlock your home with your mobile
Have you ever wondered how people could have locked their house for the last few hundred years without assistance of keys? It's crazy to think that people still use keys to gain access into their own homes. It's absurd!
Lockitron wants to drag our front doors into the here and now! No longer do you have to pull your keys out, or leave a spare set under the flowerpot for your friend. No! You can do it all from your smartphone. Huzzah!
3. Facebook reminds us that chairs connect us
Facebook have reached one billion users in a month! What amazing news. Zuckerberg and co were so happy with the achievement that they celebrated by advertising Facebook!
Yes, instead of holding a party or giving the millionth member a giant cheque, Facebook decided that this was the right time to tell the world to sign up by liking Facebook to chairs, bridges and everything that connects us ... what?
4. Split the bill... literally!
You know what it's like. You're at a restaurant with your friends and payday felt like 6 months ago. So you decide it's best to just have a glass of tap water and a cheap main. However, your friends are celebrating something so they order a plethora of starters, mains, desserts and a gallon of wine.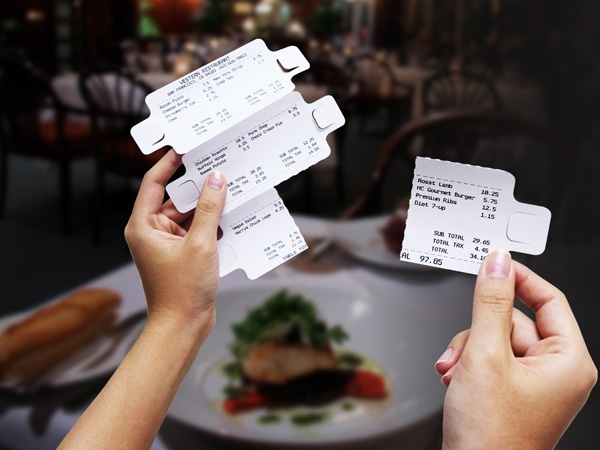 Then it comes to splitting the bill, where your slightly tipsy and more successful friend decides to just split the bill. If only each restraunt had Szu-Yu Liu's nifty design work where you can easily split the bill and pay for what you ate. This is well thought out design, no argument.
5. Music of the week
In this new feature of UXB's 5 top find series, we have included a couple of quite unknown and quirky bands. However, this week we bring you one of the world's most famous singers at the moment with Adele.
Her song for Skyfall is so amazingly James Bond, it is making us excited for the film... even more so than the trailer! Good work Adele, you brought class and style back to Bond.