1. Sherry Turkle TED talk: Connected, but alone?
Many people may shrug off the importance of mobile phones in our lives but the reality is most of us feel uncomfortable leaving the house without it. Now, things are even more connected and having a day without a phone can become a ridiculous task. We need to feel a part of conversations... but are we?
Sherry Turkle, Professor of Social Studies of Science and Technology, gave a TED talk last month about how mobile technology is reducing our abilities to have real conversations. So why do we spend all this time with machines? According to Turkle, it is because we feel like no one is listening to us.
"We are tempted by machines that offer companionship"
Unfortunately, it seems that Turkle has become a bit of a doomsayer, predicting that technology - mobiles in particular - and social media will lead to the demise of relationships and privacy. In fact, lecturer of Psychology and the University of Sheffield has written a lengthy blog post on why Turkle is so wrong in her beliefs and how we have always felt like this.
"She is seeing what she wants to see in the world around her. There is also an inherent conservatism in her assumption that things were better before this anarchy of technology was loosed upon the world, the assumption that not only were things better before, but that this was the way they were "supposed to be"."
At UXB, we believe that mobile technologies and social networks are a way of extending conversations, reaching a wider platform with your voice and having access on the go. To give Turkle credit, at no time does she suggest we abandon technology, but rather use it to make the real world better.
"Let's talk about how we can use digital technology, the technology of our dreams, to make this life the life we can love."
2. Avengers disassembled
On a drastically lighter note, Dutch artist Junaid Chundrigar is the latest (and possibly greatest) to parody the Marvel Universe following the record breaking performance of Avengers Assemble.
Simply titled 'Disassembled', Chundrigar's animation sees Spidey fly into a Bugle helicopter, Tony Stark blast Pepper Potts and Cyclops slam the Silver Surfer into the sun. I wonder if anyone reported that to Solar Stormwatch?
3. Pentametron turns tweets into poems
To retweet or not to retweet, is that the question? In the chaotic world of Twitter, there are literally thousands of tweets per second. How can we decipher what is good and what isn't? It might be the ones you never noticed.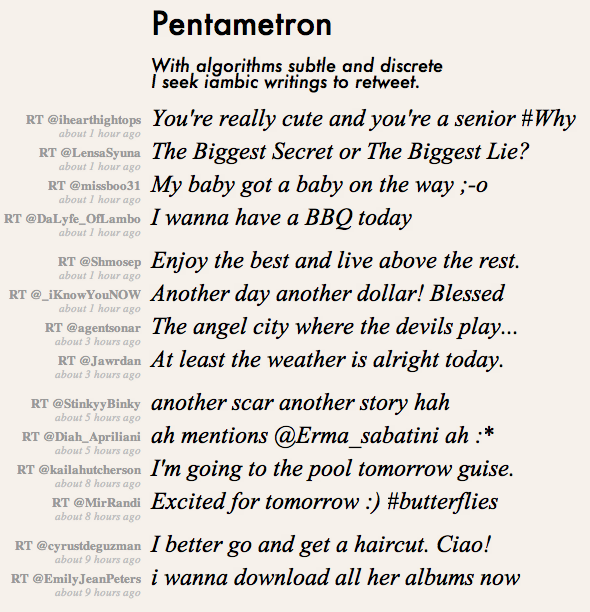 Pentametron is a bot that scours Twitter to find rhyming couplets to retweet, curating one long, punchy, rhythmic and inadvertently funny poems. Check out their Twitter here.
Whatever happened to the Mini Horse..
My dads the definition of a NORSE
4. 'iPhone therefore iAm' - Freddy Clarke
Californian musician Freddy Clarke's new song 'I Phone Therefore I Am' is a quite hilarious and surprisingly catchy song about updating to the smartphone world. After deciding with his friends to write a song that was topical, Clarke decided to focus on the mobile world.
"The idea was to write something that is in the current wave of headlines like" the Japan tsunami" but of course not that specifically. We didn't have any ideas until I blurted out "Hey, I just bought a new Android today!" And that led to all of us thinking along the lines of a song about the new smart phone."
This song is definitely a grower. After deciding it was funny but terrible, the next day we were bopping our heads along to it for way too long.
5. LED floating balls light up Tokyo river
The first Tokyo Hotaru festival kicked earlier this month and 10,000 LED lights were sent down the Sumida River through central Tokyo to mark the occasion.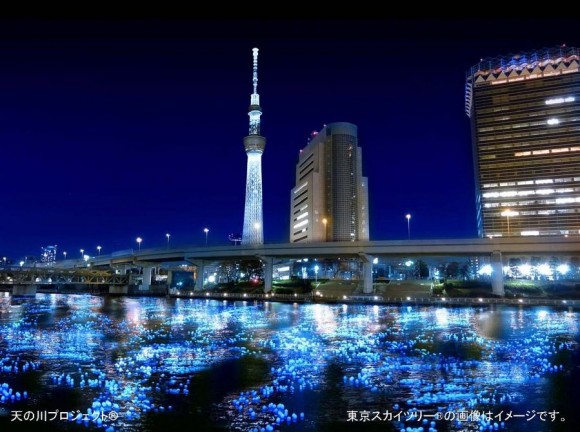 [Image from Spoon Tamago]
Made to represent hotaru (fireflies), Panasonic provided the LED balls described as "Prayer Stars." To all of our environmentally conscious readers, don't worry, the balls were all powered by solar energy and collected up in a net at the end of the display. It just looked incredibly cool.