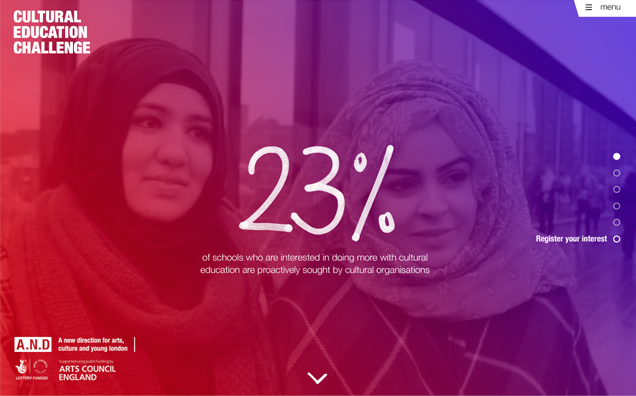 Cultural Education Challenge (CEC) is an ambitious £900,000 three year programme designed to boost Cultural Education and young people's cultural engagement in London.
The aim was to fund projects which bring culture into the lives of children and young people and not just as one off experiences.
The seven successful applicants were announced on the 8th of September 2015 and are ready to start making a big difference to cultural education. The winners will partner with over 100 organisations – ranging from housing associations, social enterprises, early years settings, local authorities, cultural organisations and schools – to make a great impact in young people's lives.
The partners will work together to leverage 100% match funding into the programme, bringing the total investment over the first phase of the three year project to £1.4million.
The website we designed provided a platform for AND to take a bold stance on inequality in the capital and successfully attracted bids from projects that focus on bringing cultural experiences to a diverse range of children and young people.
A tightly focused and targeted project that will hopefully be followed by a great deal of excitement for young Londoners.