In 2010, UXB's very own Director and co-founder Sean O'Halloran was briefly interviewed by the BBC's technology correspondent Rory Cellan-Jones regarding the government's monumental spend on websites at the time.
In the blog, Sean is quoted saying that the government should "first work out what they want to deliver, then source the technology." It appears as though someone was listening.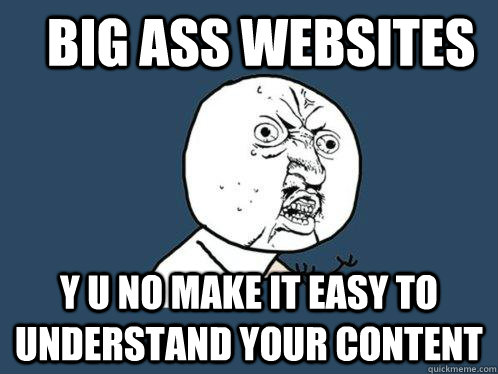 [Users should define the complexity of content - image from a11meme.tumblr.com]
Two years later, Business Link and Directgov have been replaced by gov.uk, a 'simpler, clearer, faster' site - even if they do say so themselves.
Here are a few reasons why we think the new gov.uk website is so works so well:
Navigation
Simple navigation is important to any website. If you don't know where to click next to find the information you want, it can be incredibly frustrating and you end up trying to resolve your issue offline.

For the Government, this means people phoning up their call centres. The information may be on the site, but if people can't find it easily, it might as well not be there at all.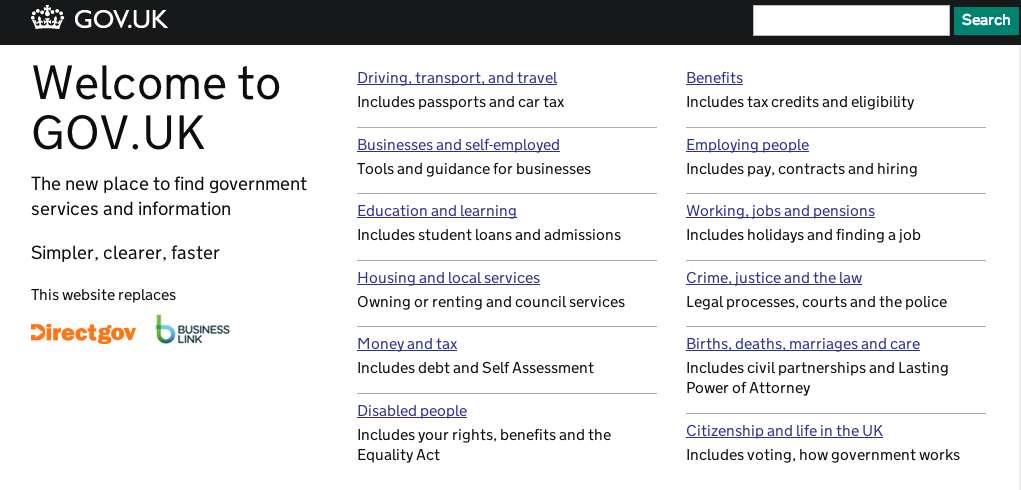 [The eye instantly lands on a list of most important pages on the site]
With gov.uk, the important links are staring you right in the face. There are no images of happy people smiling because of their amazing council. It is just information, and that's all people want.
Responsive design
The other big story for us recently has been the launch of the new iPad and iPad mini. What has this got to do with the new government website? Different screen sizes.

New digital devices with access to the internet are coming out more frequently and theirs displays all vary. From a huge 50" smart TV to a tiny iPhone 4, it is more important than ever for websites to work across the growing amount of different screen sizes.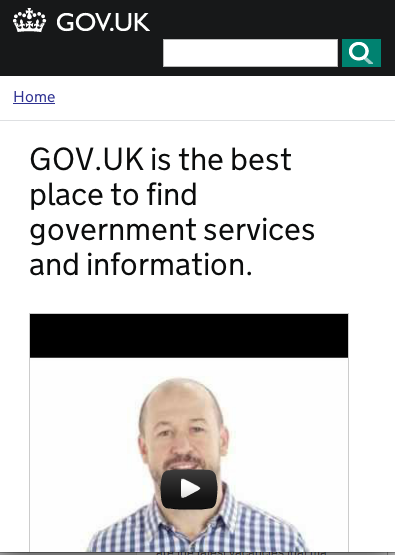 [Screenshot of gov.uk when browser window size is reduced]
Gov.uk have decided to make their site responsive, meaning that no matter what screen size people are visiting from, the site will snap to fit. This means that if someone only has access to the site on their phone, they aren't missing anything. Important for an essential website such as gov.uk. - Visit UXB's responsive design page for more information.
Content
The best thing about the website is its content. Gone are the days of confusing jargon, delivered on long PDFs of information. Now, step-by-step guides help the everyday person to easily understand what they need to do.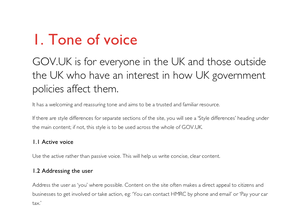 [Strict tone of voice guidelines that focuses around the user]
They have even highlighted that they are using "plain and direct language", with focus on being concise. One rule even states that the content should be "serious but not pompous", which is a nice touch.
Conclusion
Rory Cellan-Jones' article on gov.uk ends on a much more positive note, and we agree. The three examples of why we think this website works is the result of Sean's advice noted earlier, put the users first. It is evident that visitors to the site have been thought of thoroughly, making search a key priority and easy, step-by-step guides that everyone can understand.
Interestingly, the team behind the website showed Cellan-Jones their wall of shame, which has the BBC technology journalist's aforementioned blog post on the wall, with Sean's idea. We like to think we had a little helping hand in making gov.uk a much nicer place to visit than any previous government websites.
If you would like your website to work for your users, contact UXB.