Customers, investors and the media have fully embraced the mobile web and the opportunities the platform presents. We've covered much of this in great detail in previous posts.
But new research, released last week, shows that the majority of the corporate world has yet to wake up to this change in consumer behaviour and realise the potential mobile presents for their business.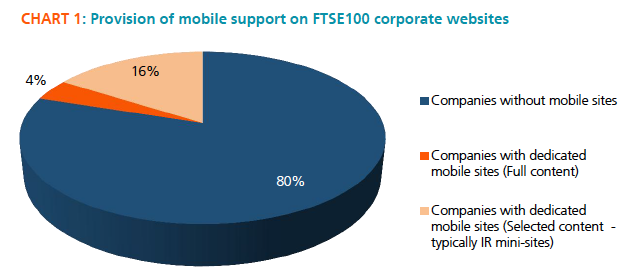 The report, the first of its kind and published by Magus and Investis, has some sobering statistics about just how ill-prepared the FTSE 100 is to meet people's needs in the changing consumer landscape.
Despite mobile website traffic being predicted to overtake desktop traffic in 2014, it's startling to know that 80% of the FTSE100 currently don't offer support for mobile devices. Of that 80%, it is reported that user experience on mobile is further worsened by, on average, 4.25 compliance issues per webpage.
Corporate sites don't matter on the social web
Attitudes towards the importance of corporate websites vary from business to business. Many brand owners prioritise digital investment at both brand and consumer level; whilst others prefer to invest 'on platform' in a bid to be more social.
Marketers must be mindful though that not everyone who matters to their business is game for being social – or likely to believe the upbeat advertising message. Consumers, investors and employees increasingly want to know what a business stands for; not just just what they do, make or sell.
Sustainability has moved from the margins to core business strategy
Mobile web browsing will outnumber desktop browsing within 2 years
Tying these two realities together is this: people who really want to know about the business behind a brand will find the info they need in many places online, including the corporate website. And increasingly, when looking for this information, they'll be using a mobile device.
For the small percentage of corporate websites that do offer mobile support, just 4% have dedicated fully mobile sites. The remainder "typically cover investor relations (IR) information such as news, press releases, share price performance data and corporate contact information, and are updated simultaneously with the corporate website".
Olympian misjudgement
For mobile users trying to access corporate content online, the current experience is generally poor. But, as the new report states in its conclusion, there is huge opportunity to "reward early adopters with competitive advantage and increased audience share".
In a year when many FSTE 100 companies are sponsoring the London 2012 Olympics, another once in a lifetime opportunity to engage new audiences and maximise return from their investment might be missed.
Serving the right content for the device
Mobile devices have specific functional capabilities that suit particular content and user experience. Smartphones are particularly well-suited to delivering easily digestible content in bite size chunks. Tablets, on the other hand, are better for more immersive experiences and richer content such as video. Corporate web managers must do more to understand the basics of the mobile web – but, according to the research, none of the surveyed corporate sites have been built using responsive technology.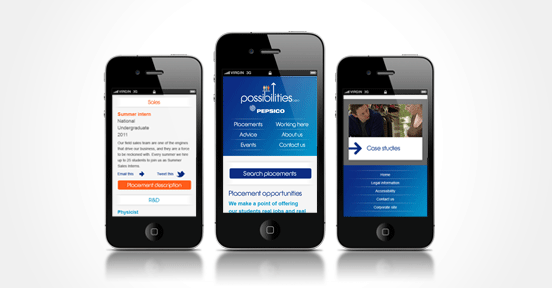 What is clear is that those companies take the opportunity of mobile and future-proof themselves with useable, mobile-friendly content will reap the benefits. UXB recently completed a fully mobile-optimised responsive website for PepsiCo – who have seen (year on year) website traffic increase by 275% (iPhone) to 484% (Android) and an astounding 1040% on iPad.
Download the report and get in touch if you'd like UXB to help you go mobile.