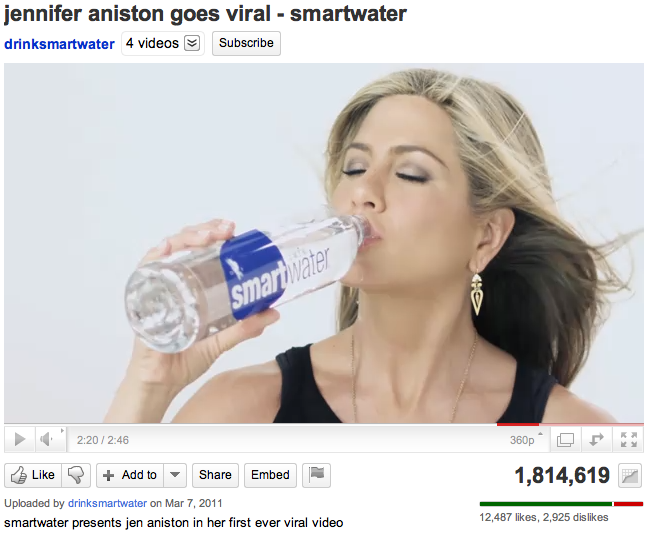 Smartwater's brand channel was a neglected corner on YouTube until 07/03/11. Prior to the launch of their effort with the Friends star, their uploads had been viewed a total of 4,739 times. Even the trailer for the new ad only got 554 views.
However, today that number sits at 1,830,820. That's an increase of over 38,600%. Seriously impressive stuff.
'Jennifer Aniston goes viral' has, on the one hand, achieved what Smartwater presumably set out to do. It's definitely 'gone viral' in the sense that I, like many others, saw it, Tweeted it and posted in my Facebook profile and page accounts, but I can't help feeling a little uneasy with the video.
In the nearly 3 minute ad, Aniston parodies most of the current popular YouTube memes - CGI puppies, dancing babies, Keenan Cahill, the double rainbow guy, and then bizarrely kicks a fan in the unmentionables. Her reasoning? "Sorry, but that should be worth about 100,000 hits".
It's unclear whether the new Smartwater ad is to raise the brand's profile, increase sales or just stimulate conversation. I have a feeling they've tried just a bit too hard with it - they seem to have stolen everyone else's viral content, stuck a famous TV star into the mix and watched the hits stack up. It's a cheeky move, and I have a strong love/ hate reaction to it.
However, watching the ad doesn't enthuse me about the brand or want to start buying their products. So if Smartwater were just trying to raise their profile or stimulate conversation I applaud them. If they're trying to sell more Smartwater then I think they've fallen short of the mark.
But then the numbers don't lie. The video has gone viral.