Mobile browsing has been seen as the future of Internet access for longer than makes sense. Businesses know it's important to focus on, but later, not right now. It's also confusing that conversations on this theme are happening on Twitter, mostly updated by users on iPhones, Blackberrys and Android devices.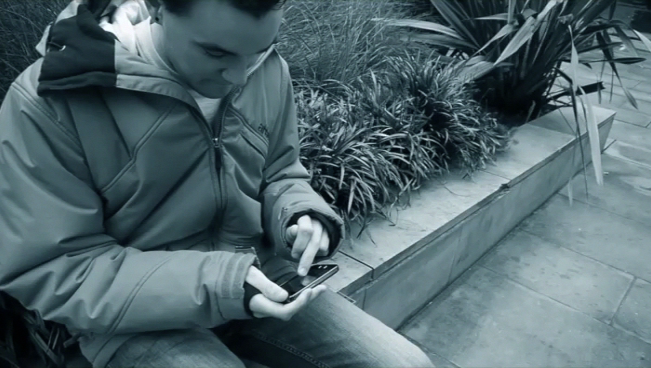 Is mobile the future? It looks more like the present to us - and reports agree
Nearly everywhere you look, someone is on a smartphone surfing the web, tweeting or slinging brightly coloured birds at green bodiless pigs. Depending on when you agree the smartphone era began, the technology looks set to be the fastest spreading in human history.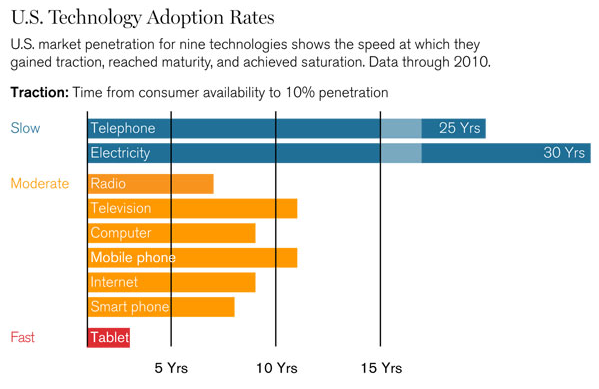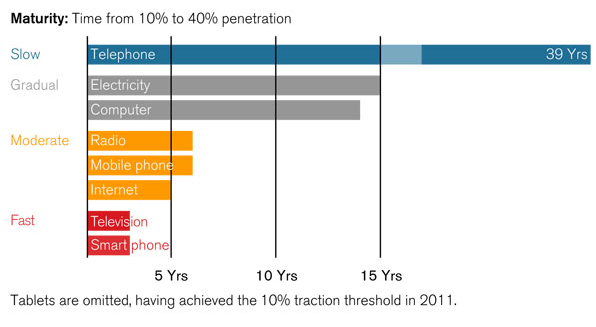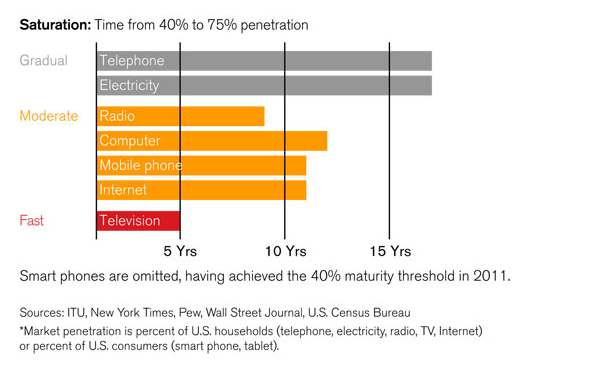 [Images from Technology Review]
Interestingly, the report from Technology Review also suggests that tablet devices could reach saturation point even quicker than smartphones. One thing is for sure, mobile computing is popular and cannot be ignored.
What are businesses doing about it?
Last year, Global research and advisory firm Forrester reported that "consumer adoption of mobile eBusiness activities will continue to rise." They state that professionals are "racing against the clock to provide solutions in real time". And they predict that consumers are going mobile but businesses are lagging behind.
"Like contestants at the end of Final Jeopardy, eBusiness professionals can sense that they're racing against the clock to figure out role of the mobile channel: Consumer adoption speeds ahead, and eBusiness professionals rush to provide solutions in real time. We expect these activities to increase across the board, driven by three main forces: Mobile-savvy Gen Yers and Gen Xers will become more active customers, smartphones and tablets will continue to go mainstream, and emerging markets will swell the ranks of mobile consumers. The dramatic growth of the mobile channel can be seen across many types of activities that eBusiness leaders oversee — from healthcare to retail."
More recently New Media Age reported that while more people will, very soon, access the Internet via mobile phones than PC's, few companies are doing anything about it. In the report, NMA highlighted payday lender iDosh who recently revealed, that since their launch in February, 30% of their traffic has come from mobile devices. Any company that ignores the need to deliver a good experience for nearly a third of its customers does not have a good business model.
This is backed up by the recent survey from Worldpay (Internet payments system). The data shows that Internet shopping in on the rise in the UK thanks to smartphone and tablets and Britons are doing 25 per cent of their spending online, with one in six buying on a smartphone.
"Online shoppers are becoming increasingly mobile, no longer chained to their PC to buy goods and services,"

"The way shoppers engage with mobile devices is also evolving and will drive the future of eCommerce as consumers look to purchase through apps, mobile websites and using their device on the move." Philip McGriskin, chief product officer, WorldPay.
Some may question Mobile. Is it just a fad? A quick trend that will end with people back in stores? This looks unlikely, mobile is only going to grow. At the end of 2011, information technology research and advisory firm Gartner says that companies will generate 50% of their sales from mobile... as well as one more digital advancement that looks set to stay.
Social matters
Gartner claims that, along with Mobile, Social Media will contribute to 50% of online sales for companies by 2015. How is this done? It is important to remember that social media is about being, well, social. Having a strategy dedicated to only promoting your own content will often lead to little engagement and people don't react well to one-way relationships.
Remember two simple things. 1) Steve Jobs once said in an interview with Wired that "The Web won't change the world... The Web will augment the world." and 2) It is called Social Media.
What this means is that the social internet community will respond similarly as they would in real world situations of socialising. How much engagement would you expect at a party if you didn't reply to people's questions and interrupted conversations (trending topics) with statements about what you had to sell? Probably very little.
Back to the future II
Businesses who develop marketing strategies for mobile now will be in the right place to take advantage of this revolution in consumer behaviour and huge growth potential. Barclays Corporate predict £19.3 billion spending from mobile phones and tablets in 10 years time, up from £1.3 billion in 2011.
So mobile is not the future, it is now. The public are using hand-held devices and businesses have a great opportunity to win their custom by delivering a great mobile experience. The time is right for business to incorporate mobile into their strategies.
Get in touch if you would like UXB to help you go mobile.