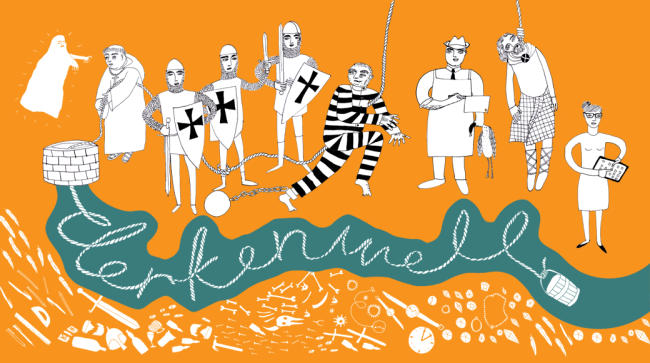 This list describes the characters in the image from left to right.
1. Scratching Fanny of Cock Lane – the ghost of Fanny Kent was said to haunt a house in Cock Lane in the 19th century by scratching on the walls. The ghost was the talk of Victorian society for a while, with house owner, William Parsons, charging people for the chance to communicate with the ghost. Samuel Johnson investigated and revealed it as a hoax.
2. Monk at the Clerk's Well – the well that gives the area it's name is mentioned in the 12th century in connection with two monastic foundations, The Priory of the Hospitalers of St John of Jerusalem and the Convent of St. Mary. The well can still be seen through a window at Well Court, 14-16 Farringdon Lane.
3, 4 & 5. Knights Hospitalers of St. John of Jerusalem – the monks were not always drawing water, they also drew their swords, swapped cassocks for chain mail and went on the crusades. All that remains of their extensive Priory is the crypt which you can see via the Museum of the Order of St. John in the largely rebuilt St. John's Gate.
6. Prisoner from the House of Detention – down some steps off Sans Walk and underneath a former school is the remains of the House of Detention. It dates from the Victorian era but there's been a prison on the site since 1614. The Clerkenwell Outrage refers to a botched attempt to blast a prisoner out in 1867.
7. Smithfield butcher – there's been a meat market at Smithfield for almost 1000 years. The current Grade II listed building was designed by Sir Horace Jones in the late 19th century. It's been threatened with demolition several times but developers have always been put off by men wielding meat cleavers.
8. William Wallace – the leader of Scottish resistance to Edward I was hung, drawn and quartered at Smithfield in 1305. A plaque on St. Barts Hospital near the site of his death commemorates his achievements.
9. Designer – Clerkenwell is home to many digital agencies, graphic designers, architects and it's the comfy seat of the three day Clerkenwell Design Week.
If you're in the area drop by and we'll find you a pew.